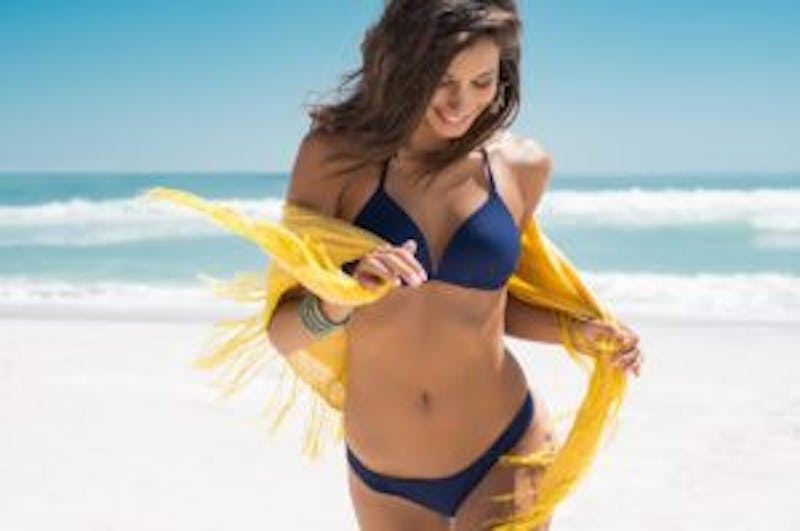 It's January, and the summer beach season seems far away. However, if you're looking to improve your figure before summer, the time to act is now. It can take six to eight weeks to heal after plastic surgery and by planning ahead, you can be ready to look your best at the beach once the warm weather arrives.
Dr. Shuster offers a wide range of breast surgery and body contouring procedures to help you look your best in a bikini. He'll listen carefully to your goals in order to recommend the right treatment plan for your needs. You are welcome to schedule a consultation to learn more about your options.
Breast Surgery Options to Look Great in a Bikini Top
If you'd like to improve the appearance of your breasts, there are several options to help you achieve your desired look. The right procedure for you will depend on your goals.
Breast Augmentation
Breast augmentation is an effective way to enhance the appearance of your breasts. The procedure can help achieve a variety of aesthetic goals, including:
Larger breast size
More attractive breast shape
Correction of breast asymmetry
Restoration of lost breast volume after weight loss or pregnancy
More cleavage
Improved breast projection
Dr. Shuster offers both saline and silicone breast implants, and he will recommend the right option based on your body type and desired outcome. He strives to achieve a natural looking result and specializes in the transaxillary breast augmentation technique, which ensures there is no scarring on the breasts.
Breast Lift
If you'd like to address sagging issues and restore a more youthful breast appearance, a breast lift may be the best option. During the procedure, Dr. Shuster will elevate the breast and reposition the nipple to achieve a perky breast appearance that will look great in a bikini. Dr. Shuster uses a special technique which allows him to minimize your incisions for a more discreet scar.
In some situations, Dr. Shuster may recommend breast augmentation with a lift for best results. Combining these procedures allows him to improve the size and shape of your breasts while addressing any sagging issues you may experience.
Breast Reduction
While a larger breast size is a common goal for women looking to improve their bikini body, it isn't desirable for everyone. In some instances, you may feel that you'll look better in a swimsuit (and experience a significant reduction in back pain) with a smaller breast size. In these situations, Dr. Shuster can perform breast reduction to help you achieve your desired look.
Body Contouring Options for a Beautiful Beach Body
Exercising on a regular basis is an effective way to get you close to achieving a beautiful beach body, but sometimes these workout efforts can fall short of your desired outcome. Dr. Shuster offers a wide range of body contouring solutions that can help you put the finishing touches on your fitness regimen so that you can look truly great in a bikini this summer.
Liposuction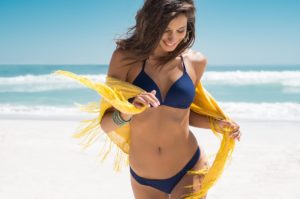 It's easy for the muscle tone you've developed to be obscured by a small amount of fat that simply won't respond to your exercise efforts. In these situations, liposuction can remove this unwanted fat to deliver the toned, sculpted figure you desire. Dr. Shuster utilizes several different liposuction techniques, including:
Tumescent liposuction – This traditional method utilizes a special solution of tumescent fluid to facilitate the breakup of fat before it is removed using a thin, hollow tube called a cannula.
Ultrasonic liposuction – Ultrasonic energy is used to liquefy the fat, making it easier to remove.
Power-assisted liposuction – This technique uses a cannula which produces small, rapid vibrations which facilitate the breakup of fat so that it can easily be removed.
Liposuction can be performed on just about any area where you would like to remove excess fat. For best results, you should be at or near your target weight and live a healthy, active lifestyle. Dr. Shuster will customize your procedure, choosing the most effective liposuction technique to achieve your goals.
Tummy Tuck
If you've been hesitant to wear a bikini due to the appearance of your stomach, a tummy tuck may be the right solution to get your beach body ready for summer. This procedure removes excess skin and fat, and tightens loose abdominal muscles in order to help you achieve a toned, flat stomach.
A tummy tuck is an effective way to address changes to your abdominal region caused by pregnancy. Often, these issues can't be addressed by exercise alone. In addition, a tummy tuck can help put the finishing touches on your appearance after undergoing significant weight loss. The procedure can eliminate loose, hanging skin in the abdominal region that commonly exists after losing a lot of weight.
Thigh Lift
If your loose skin over your legs is your primary area of concern, Dr. Shuster can perform a thigh lift to help achieve your goals. During this procedure, excess skin along the inner thigh is removed to achieve a slimmer, more toned appearance. Dr. Shuster works to emphasize the natural contours of your legs, delivering subtle results that enhance your overall figure and help you look great in a swimsuit.
In some instances, Dr. Shuster may recommend liposuction in conjunction with a thigh lift for enhanced body contouring results.
Timing Your Plastic Surgery to Be Ready for Summer
It's important to remember that the entire plastic surgery process – from initial consultation through a full recovery – will take several months to complete. In order to experience your final results in time to enjoy a beautiful summer beach body, it is better to have a consultation earlier in the year. This will give you plenty of time to recover and get back in the gym before hitting the beach.
Contact our Hollywood Plastic Surgeon
If you would like to learn more about your plastic surgery options, we invite you to schedule a consultation with Dr. Shuster. We serve patients in Hollywood, Fort Lauderdale, Miami and throughout South Florida. We also offer virtual online video consultations for our patients outside of Florida and the U.S.