While many facial plastic surgery procedures are intended to reverse the signs of aging, this isn't the only goal that can be accomplished with these treatments. Facial plastic surgery can also be performed to improve the appearance of a specific feature. When this is your goal, we call these treatments beautification procedures.
It's important to understand that beautification procedures aren't performed to make you look like a different person. You'll still look and feel like yourself afterwards. However, you'll experience the benefits that occur when you subtly reshape a facial feature. Often, minor adjustments can significantly improve your overall facial balance and harmony.
Improving the Appearance of Your Nose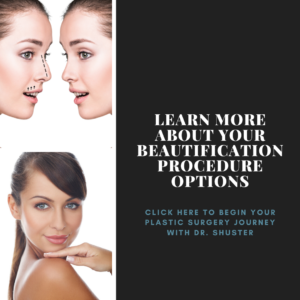 Rhinoplasty is by far the most popular beautification procedure Dr. Shuster offers. By making subtle changes to the shape and structure of your nose, rhinoplasty can ensure your nose is in proper proportion with your other facial features.
Your rhinoplasty procedure can address a variety of aesthetic concerns, including:
Irregularly shaped nose
Nose that is too large, small or wide
Crooked, bent or unattractive bridge
Tip that is too small
Large, wide or droopy tip
Nostrils that are too constricted or narrow
Nostrils that are too wide or upturned
Asymmetrical nostrils
Fuller Lips
Full, luscious lips have become a symbol of attractiveness and beauty in recent years. It should come as no surprise that they are highly desired by many of our patients. Dr. Shuster can perform lip enhancement to help you achieve a variety of aesthetic goals, including:
Add volume to thin lips
Create better definition along the borders of your lips
Improve the appearance of vertical lip lines that develop as you age
Depending on your unique needs and goals, Dr. Shuster may recommend one of the following treatment options:
Dermal fillers – Dermal fillers such as Juvederm can add volume and definition to your lips. Results last six months or longer.
Fat transfer – You can undergo a fat transfer procedure which uses your own fat and tissue to add volume and definition to your lips.
Lip roll – This surgical procedure creates an incision on the inside of the lip, allowing it to be "rolled out" to achieve a more voluptuous appearance. This procedure delivers permanent results.
Better Definition in the Chin
Chin implants are an effective way to address a weak chin appearance. Dr. Shuster can perform this procedure to achieve a variety of aesthetic goals, including:
Create a lengthened facial profile
Improve the overall balance of your facial profile
Create a stronger chin appearance
Achieve a more aesthetically pleasing facial shape
Contact our Hollywood Plastic Surgeon
You can learn more about these beautification procedures and receive individualized treatment recommendations by scheduling a complimentary consultation with Dr. Shuster. We serve patients in Hollywood, Fort Lauderdale, Miami and the surrounding areas of Florida.