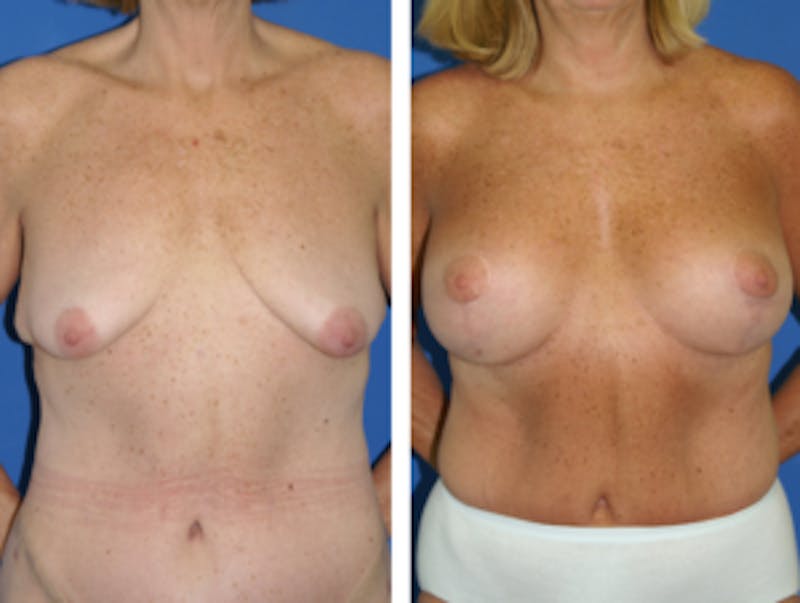 Breast lift surgery is helpful for women who have experienced breast sagging due to weight fluctuations, pregnancy and nursing, genetics, or the simple process of aging. The procedure addresses drooping breast tissue and loose and sagging skin on the breast mound to produce a look that is firmer, perkier, and more complimentary to surrounding features. Breast lift surgery may also be used to improve the location of the nipples.
The firming of the breast mound during breast lift surgery can result in a slight reduction in breast size. For some women, this is nominal. For others, it can produce a significant change.
Breast augmentation improves the size, symmetry, and projection of the breasts. This procedure is an excellent solution for women who would like to increase the size of their breasts. Implants are placed during this procedure to create a fuller contour.
Breast augmentation is an ideal combination with breast lift surgery, depending upon a woman's preference.
Dr. Bernard Shuster is a board-certified plastic surgeon with decades of experience helping women achieve their goals through personalized breast surgeries. He offers a range of breast implant types and sizes, including conservative implants, which allow for subtle and natural-looking results when paired with a breast lift. During your initial consultation, he can help you determine if a combination of procedures will be needed to reach your goals and discuss all of your surgical options.
Breast and Body Procedures
Many of the factors that cause breast ptosis and volume loss also allow for the accumulation of excess fat and loose skin throughout the body. Services that can address these issues include:
Liposuction to remove stubborn fat deposits
Abdominoplasty to eliminate excess skin and fat from the midsection
Lower body lift to improve the appearance of the buttocks and thighs
These treatments are often included in mommy makeover surgery, a comprehensive procedure designed to address issues that are more common as women age. You needn't have children to benefit from a mommy makeover, though. During your initial consultation, Dr. Shuster will carefully assess your areas of concern to help you determine if a single procedure or a combination will be most beneficial for you.
Our office is located in Hollywood, Florida. We welcome patients from all areas of the country.