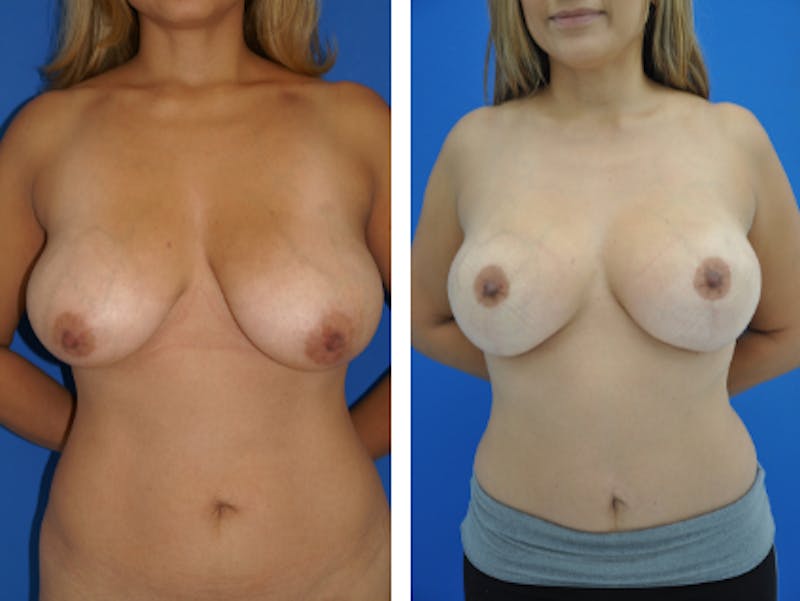 During breast lift surgery, incisions are made on the breast mound to allow for the gentle repositioning of the underlying tissue. As with any surgical procedure, incisions will leave traces. How visible and distracting these traces will be is somewhat dependent on the technique used for your procedure. It is also somewhat dependent on steps you take before and after surgery to reduce the risk of scarring.
The Short-Scar Technique
Dr. Shuster specializes in minimally invasive, short-scar breast lift procedures. He utilizes a specific three-layer closure method to minimize scars. With these options, an incision is made around the areola where it can be hidden in the naturally darker and bumpier skin surrounding the nipple. Another incision is made vertically from nipple to breast crease, allowing for optimal access to underlying tissue.
The short-scar technique is not always possible. Significant amounts of loose skin, more pronounced sagging, and similar issues may necessitate an additional incision along the breast crease. An experienced, thoughtful, and careful surgeon, Dr. Shuster takes every care during these more involved procedures to reduce the risk of scarring as well.
Your Role in Preventing Scars
Steps you take before your procedure can help reduce the risk of scarring. These include eliminating nicotine from your system, temporarily ceasing some medications, herbs, and supplements, and creating a comfortable space to recover. During the first few days of recovery, you will need to reduce activities and keep your incisions dry and clean. These steps help to prevent infection and reduce stress on the incisions.
We will provide you with detailed instructions before your breast lift surgery to help you plan accordingly. During your follow-up visits, we will answer any questions you have and gauge your recovery to help you determine when it is wise to resume specific activities. Giving your body time to heal can assist in preventing visible scars and ensure the most pleasing results.
There are some topical gels, ointments, and sheets that can help to soften and reduce the appearance of scars. These should not be used during the healing process, but may be used after to assist in scar reduction. We can provide additional information and guidance on these products during your time in our care if they might prove useful for your needs.
Dr. Bernard Shuster is a board-certified plastic surgeon serving Fort Lauderdale, Miami Beach, Davie, and all nearby areas from our Hollywood, Florida office.