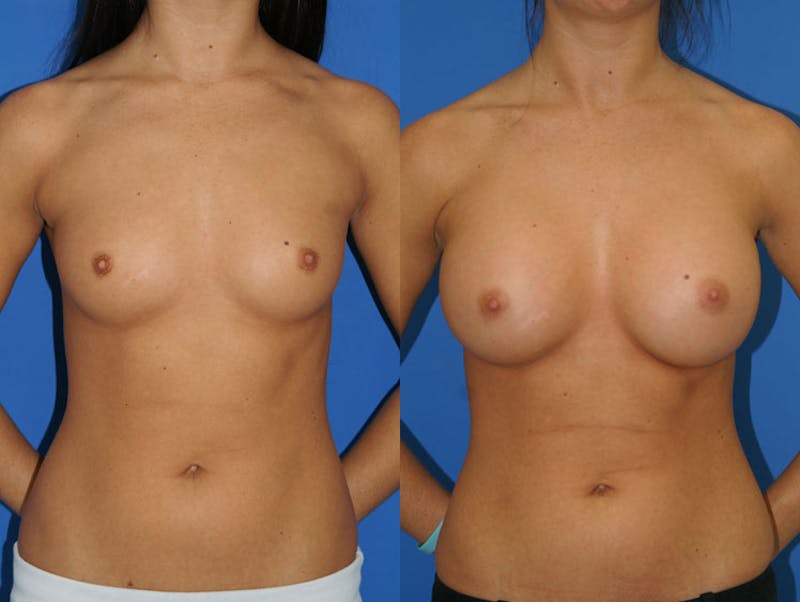 Dr. Bernard Shuster favors the transaxillary incision for breast augmentation because of the benefits it offers to his patients. This small incision is made in the crease of your underarm. Here are several of the most common questions we are asked about it:
Will the breast implants sit too high on my chest?
No, it does not cause breast implants to sit higher on the chest than other incisions. Breast implants will at first appear high on the chest after any type of breast implant placement. The implants settle into the new pocket over time. It usually takes a few days for initial settling, with continued improvement over the course of a few months.
Will the scar be obvious?
No, the incision is well-hidden. It's nestled in your armpit. Although it will look red and raised initially, it will heal over the course of a few months, getting flatter and fading to your skin color. Even when you raise your arms above your head, it will be very hard to find the incisions.
Are any incisions made on the front of the breast?
No, incisions are not made on the front, sides, or anywhere else on the breasts during a transaxillary breast augmentation. This technique allows you to avoid scars on your breasts.
Can anyone perform a transaxillary breast augmentation?
Transaxillary breast augmentation is a specialized procedure best performed by surgeons who have extensive experience specifically with this technique. Dr. Shuster exclusively performs the transaxiallry methods and had placed thousands of implants with this approach.
Will I have to get silicone implants with this type of incision?
While the vast majority of breast implants Dr. Shuster places transaxillary are silicone, he routinely places saline breast implants through a transaxillary incision as well. He can determine what's possible for you after meeting with you in a consultation.
Schedule Your Transaxillary Breast Augmentation Consultation
Dr. Bernard Shuster enjoys telling his patients about this breast augmentation incision and helping them choose the surgical options that best fit their goals. You can learn all about the various methods and options, as well as recovery from a transaxiallry breast augmentation, during a consultation at our Hollywood, FL, practice.