There are several different incision techniques used to perform breast augmentation. While Dr. Shuster uses all three methods, his preferred technique is the transaxillary incision, which is placed through the armpit.
Dr. Shuster is able to achieve beautiful results using the transaxillary breast augmentation approach. He prefers this method because it avoids any scarring on the breast. Instead, your scar will be discreetly concealed underneath the armpit.
6 Benefits of Transaxillary Breast Augmentation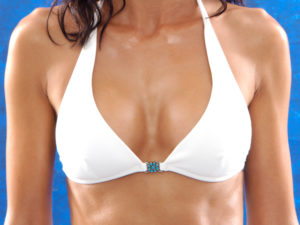 You'll experience the following benefits from the transaxillary breast augmentation technique:
No scarring on the breast
Short, inconspicuous scar along the armpit crease will be unnoticeable by others
Provides Dr. Shuster with direct access to the implant location
Eliminates the need to cut through the muscle or the breast when accessing the implant location
Less likely to impact nipple sensation
Can be performed using either silicone or saline breast implants
Your Transaxillary Breast Augmentation Procedure
Dr. Shuster will make a small incision (1-2 inches long) in a natural crease along the armpit. After creating a space under the chest muscle, he'll insert implant sizers to identify the appropriate implant size. Once the proper size is confirmed, the implant sizers will be removed and replaced by your permanent breast implants. Dissolvable sutures are used to close the incision.
Due to the location of the incision, scars will be hidden and there will be no sign that breast augmentation was performed. This is one of the reasons why Dr. Shuster believes the transaxillary technique delivers the best outcome for your procedure.
Why Choose Dr. Shuster
Dr. Shuster is a board-certified plastic surgeon with over 15 years of experience performing breast augmentation with the transaxillary method. This extensive experience enables him to achieve beautiful, natural looking results. His expertise with this approach to breast augmentation is one of the reasons why so many women travel from throughout the United States and internationally to have Dr. Shuster perform their procedure.
Contact our Hollywood Plastic Surgeon
Please contact Dr. Bernard Shuster using the form on this page or call 954-961-5500 today to schedule a complimentary breast augmentation consultation. We serve patients in Hollywood, Fort Lauderdale, Miami and the surrounding areas of Florida.