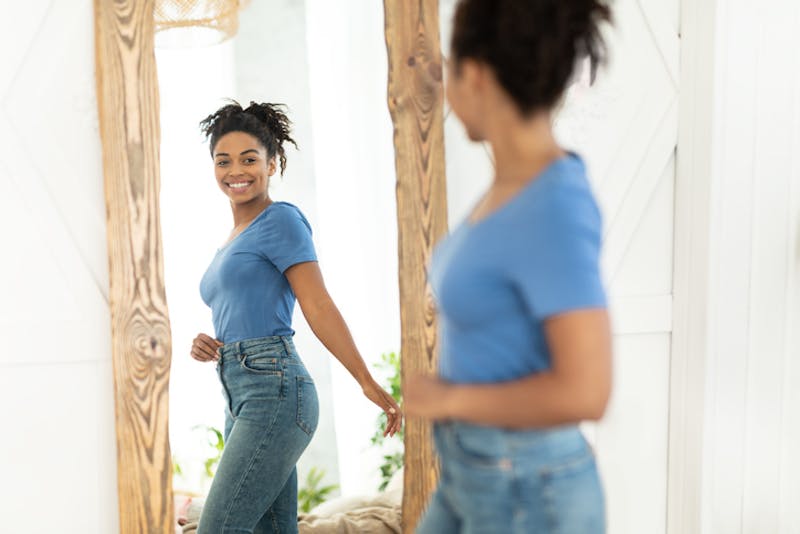 Transaxillary Breast Augmentation is a procedure for placing breast implants through a small incision made along a natural crease in the armpit. This state-of-the-art technique helps hide scars so that no one can tell a surgery was performed.
Dr. Shuster begins with a 1-2 inch incision high in the armpit. He then creates a space for the implant under the pectoralis major muscle. To ensure proper size and shape, Dr. Shuster inserts sample implants, also known as sizers. Once he finds the best size and shape, he removes the sizers and places the permanent implants. Finally, he closes the incision with special sutures that dissolve under the skin. As the incision heals, it blends into the crease in the armpit. After that, the breast procedure leaves you with proportional, beautiful breasts with no obvious scarring.
Contrary to popular belief, this type of implant placement does not make the implants sit too high on the chest. Right after surgery, the implants may appear high on the chest wall due to swelling. However, after a few weeks, the breast tissue begins to relax, causing the implants to fall into a more natural position. This incision and placement method will not cause your implants to ride high.
A common misconception about transaxillary breast augmentation is that it only works with saline implants. However, Dr. Shuster specializes in placing both saline and silicone gel implants using this method. There are also several benefits to performing transaxillary breast augmentation rather than using traditional methods, including:
Lack of visible scarring
No cutting of muscle or breast tissue
Little to no loss in nipple sensation
In addition to these specific benefits, Dr. Shuster can help you achieve a more youthful, attractive look. With many years of experience using the transaxillary method, Dr. Shuster believes it provides the best results. Patients from Miami, Fort Lauderdale, and the rest of the United States have come to him for this procedure.
If you have any questions about transaxillary breast augmentation or would like to discuss your breast surgery candidacy with Dr. Shuster, please call us today to schedule a consultation.