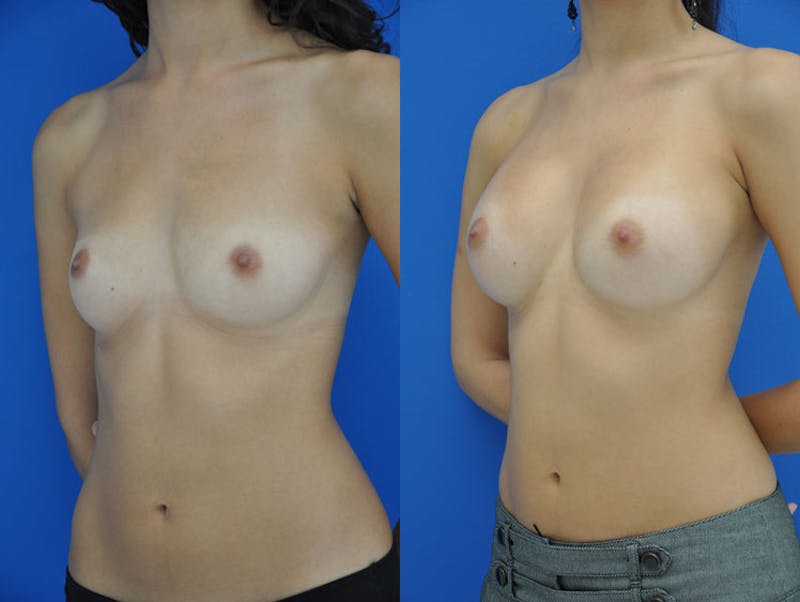 Women interested in breast enlargement often wonder if and how the procedure will affect the appearance of their nipples and areolas. It's difficult to provide a guaranteed answer because every woman is different, and the aspects of the surgery will vary as well. In general, breast augmentation does not create dramatically different areolas and nipples – unless you have arranged with Dr. Shuster to have the areolas reduced or made more symmetrical as part of your surgery.
Nipple Size after Breast Augmentation
In the days following breast enlargement, your nipples may appear puffy or large. This is most often temporary and the size will return closer to normal as swelling resolves and the breast implants settle into position.
Areola Size after Breast Augmentation
It is possible that breast implants will slightly stretch the areolas, which may make them appear a bit larger than they used to be. This isn't always the case, and even when it is, the increase is almost always so slight that most people don't notice. It's also possible they will return to normal as swelling resolves and the implants settle into place.
Incorporating Areola Modification
Some women want to enlarge their breasts but also want to reduce enlarged, stretched areolas. In many cases, this is an additional step that can be incorporated into your breast procedure. Talk to Dr. Shuster about areola reduction and if it's right for you.
"But I like the size and shape of my areolas"
If this is the case, we encourage you to let Dr. Shuster know. He may recommend slightly smaller breast implants to avoid any chance of tissue stretching. Or, after examining your current breast size and discussing your goals, he may be able to reassure you that your areolas will not be changed by the procedure.
Your Customized Breast Augmentation
If you are interested in breast enhancement but are not sure exactly what to expect in terms of how your breasts and nipples will look after surgery, we encourage you to discuss the procedure with experienced breast surgeon Dr. Bernard Shuster. He takes time to listen fully to what you want to achieve, and then he can make recommendations for a surgical approach. We hope you'll arrange a consultation with us at our Hollywood, FL, practice.